[Accommodation] [One Bedroom Lodge] [Five Bedroom Lodge] [Rainforest] [Bookings] [Weather] [ Search Engines ]
Directions To
Chambers Wildlife Rainforest Lodge
Chambers Wildlife Rainforest Lodge
Lake Eacham, Atherton Tableland
Via Cairns, Tropical North Queensland
Australia.
---
How To Get There: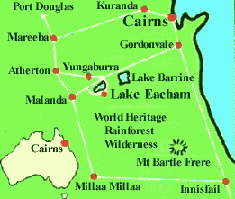 The best advice I have for your transportation needs is to hire a car in Cairns and drive up to us so that you will have a car to fully explore the natural attractions of the Waterfalls and Crater Lakes District of the Atherton Tablelands
DIRECTIONS:
Hire a car and drive south of Cairns to Gordonvale, then travel up the Gillies Highway onto the Atherton Tablelands.
Follow the road signs to Lake Eacham.
When you are looking at the waterfront at Lake Eacham, drive to the left and Chambers Wildlife Rainforest Lodge on Eacham Close is the first possible turn on the left hand side. The Lodge is a 700 metres scenic drive through the rainforest from the front gate.
Approx 69 kms and 1.25 hours drive from Cairns.
An alternative is to come up with White Car Coaches Phone(070 911937). They depart Cairns at 3.15 pm and arrive Atherton at 5.00pm. They depart Atherton 9.15 am and arrive Cairns 11.10 am.

We can do a complimentary pickup and delivery to Atherton by prearrangement.

[One Bedroom Lodge] [Five Bedroom Lodge] [Rainforest] [Bookings] [Weather] [ Search Engines ]
---